Kepler Track
The Kepler Track is a three to four day round trip from Te Anau, and is one of New Zealand's 9 Great Walks.
Length: 67 kilometres

Days required to walk: 3-4

Accommodation: 3 huts, two camp sites

Highest point: 1478m

Can be guided: No

Track condition: Excellent

Track popularity: High, hut passes required

Difficulty: Medium, experience recommended
The Kepler track is a three or four day round trip with a great variety of scenery. The track starts at the Lake Te Anau control gates and climbs from the lakeshore to Luxmore Hut. On the second day it crosses exposed alpine ridge tops and descends to the Iris Burn Hut. The third day's walk follows the Iris Burn, a glacial valley, to Moturau Hut on the shore of stunning Lake Manapouri. It is recommended to walk the track in this direction (anticlockwise) as the ascent into the alpine section of the track is more gradual.
The two entrances to the track, the Te Anau Control Gates or Rainbow Reach offer good starting points for excellent short day walks. At these low levels, the paths are easy going and well-formed, suitable for family outings.
Route Description
The Kepler Track starts at the Lake Te Anau outlet control gates, a 45 minutes walk from the Fiordland National Park Visitor Centre in Te Anau. Te Anau itself is easily accessible by road and has a regular bus ervice and a full range of accommodation options. There is a shuttle bus service to and from the track's ends, and boat services from Te Anau to Brod Bay.




Control Gates to Brod Bay 1.5 hours, 5.6 km

The track follows the lakeshore through the tree-line to Brod Bay. Brod Bay is a delightful place to swim, and an attractive place to camp if you had a late start to your tramp.




Brod Bay to Luxmore Hut 3.5 to 4.5 hours, 8.5 km

From Broad Bay the track ascends towards Limestone Bluffs, an excellent place for a lunch stop. 780 metres (2600 ft) above Brod Bay the track departs the bushline, providing panoramic views over the Te Anau basin, the Takitimu Mountains, and the Snowdon and Earl Mountains. From the bushline, the Mt Luxmore Hut is about 50 minutes walk along one of the mountain's lower ridges.


Mt Luxmore Hut to Iris Burn Hut 5 to 6 hours, 18.6km

The track climbs gradually to a ridge just below the summit of Mt Luxmore, reaching the track's highest point of around 1400 metres (4600 ft). In heavy rain, strong winds or wintry weather, wait at the hut until the weather improves. Following a series of ridges for most of the day, the track then descends through a series of zig-zags into Hanging Valley. The Iris Burn Hut is sited in a large tussock clearing with brilliant views up the valley. For a pleasant evening stroll head up the valley for 20 minutes to Iris Burn Waterfall.


Iris Burn Hut to Moturau Hut 5 to 6 hours, 17.2km.

This is a relatively flat, steady day's tramp down through beech forest, riverside clearings and a gorge. About 2.5 hours from the Iris Burn Hut the track reaches Rocky Point, a work camp for track maintenance and a good place for a lunch stop. Below Rocky Point the track wanders through the gorge to come out on river flats near the mouth of the Iris Burn. Nearing Lake Manapouri the track turns left through lowland forest, following the lakeshore around to Moturau Hut, situated beside a beautiful beach with panoramic views of Lake Manapouri.


Moturau Hut to Rainbow Reach 1.5 hours, 6.2km
Rainbow Reach to Control Gates 3 hours, 10.9km

The last day is a gentle stroll through beech forest to Rainbow Reach where in summer trampers can catch a shuttle bus service back to Te Anau. The track then follows the Waiau River back to the control gates. This section provides good opportunities for trout fishing.

Important Information
In the summer season a Great Walks Hut or Campsite Pass for the Kepler must be purchased before entering the track and be displayed at all times.
There is no booking system and a hut pass does not guarantee a bunk. There is a two-night limit on staying at each hut. Passes are available from the Fiordland National Park Visitor Centre in Te Anau.
A surcharge applies to passes purchased at the huts. Outside the summer season the huts have no heating or gas for cooking. Visitors need Backcountry Hut Tickets or an Annual Hut Pass to use the huts during this period, and should be well equipped to cope with winter conditions.
Tour Te Anau

Tour Te Anau Area
Alpenhorn Motel
- Motel.
Located just 5 minutes' walk from Te Anau town centre, Alpenhorn Motel offers self-contained rooms with free Wi-Fi, an...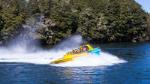 30-Minute Beach to Bay Jet Boat Experience from Te Anau
- Jet Boating - Te Anau.
Starting from $49.00 per person
.
Prepare yourself for 30 minutes of a fast and thrilling jet boat ride across Lake Te Anau towards Dock Bay for an...